(Singapore, 26 Nov 2021)Through 3 months' nomination and selection, Fortune Times, a Chinese business magazine in Singapore, held the hybrid award ceremony for the 7th Annual Fortune Times Awards on 25 November 2021 at Distrii Singapore. Elaine Foo, Founder and CEO of New Dimensions Capital has been awarded the "ASIA'S WOMEN EMPOWERMENT AWARD" at the 2021 Fortune Times Awards Ceremony.
Under the new normal of the post-covid-19 era, technological innovation has become the driving force for economic recovery and sustainable development. Elaine Foo was honored with "ASIA'S WOMEN EMPOWERMENT AWARDS" by the Fortune Times Award 2021 in recognition for her contributions to the finance industry.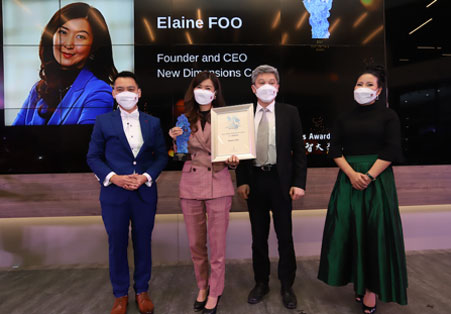 Elaine Foo is an experienced wealth manager and has worked in the industry for over two decades. She has dedicated her career to succession and legacy planning of ultra-high net worth families in the South East Asia and Greater China regions and is regarded as the most trusted advisor of these families.
Having started her career in the wealth management industry in 2001, Elaine has worked with reputed banks like, UBS and Julius Baer and Morgan Stanley. In 2018, she co-founded WHE Family Office, a single family office, which focuses on impact investing and philanthropy. Additionally, she also founded Hesed Partners in 2019, which is a management consultancy firm for private transactions.Elaine firmly believes in maintaining the highest level of integrity in dealing with clients. In her opinion, wealth management advisory for clients should encompass an unbiased, independent advice and an objective approach to their investment allocations. The pursuit to meet the above needs of the clients was the key inspiration in her founding New Dimensions Capital.
An alumnus of University of London, Elaine has a Bachelor of Science (Hon) degree, with a major in Finance. In 2020, Elaine was the recipient of Finext "Excellence in Finance Leaders" Award. She was honored with "ASIA'S WOMEN EMPOWERMENT AWARDS" by the Fortune Times Award 2021 in recognition for her contributions to the finance industry.
Elaine Foo said in her thank you note: "As an entrepreneur, I am very grateful to my family, including my father, for their key support during my entrepreneurial journey. In the future, I will continue to work deeply in the Multi-family Offices space to contribute to our community."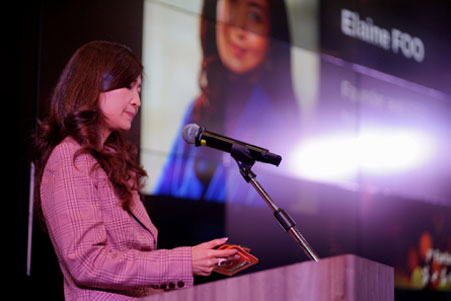 Ms. Annie Song, the Editor-in-Chief of Fortune Times, said in her opening remarks: "Compared to previous years, the success formula this year not only reflects the winners' characters including the innovation in solving market pain points, leadership in business development under the epidemic, and the capability to expand the marketing platforms, but also highlights the strategic geographical location of Singapore's, expanding business opportunities to China, to the region, and even to the world."
This year, five awards were presented on the Fortune Times Awards 2021, including the "ASIA'S WOMEN EMPOWERMENT AWARD" award, which is given to a woman entrepreneur who has demonstrated exceptional leadership, vision and career-mindedness. The award requires the recipient to have been involved and active in the business or professional field for at least 3 years in the management of a company operation in Singapore or Asia, with outstanding ability, practice, vision and leadership to develop the business and sustain its growth.